Samsung: Bixby 2.0, an operating system to connect them all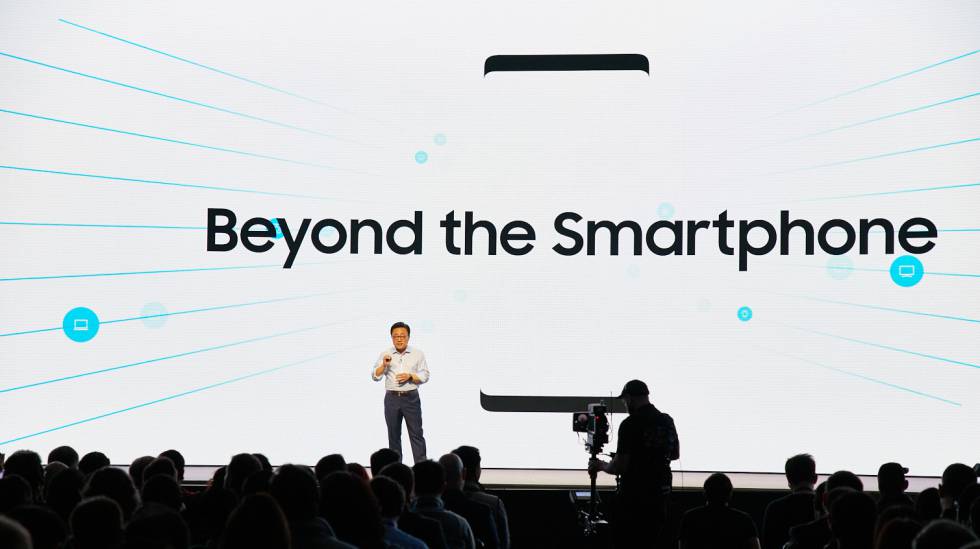 Samsung relies on the assistant to lead a new era in which information is accessible through machines that listen to us and understand.
Samsung Electronics is characterized by its enormous scale, distribution power and leadership in the manufacturing business of components and consumer electronics products such as
smartphones
, televisions or appliances.
Its semiconductor business is already more profitable than its popular mobile phone division, and thanks to the
acquisition of Harman
take its first steps in the automotive sector.
However, the South Korean manufacturer still lacks the glue that joins its large user base in an ecosystem with which to grow its
software
and services business, without doubt the key that has made in the last decade the most valuable companies in the world have gone from being oil to technology.
In the era of the
smartphone
have tried to create their own interface and applications, but always depending on Google, which together with Apple has been the great winner.
Microsoft tried it and it failed overwhelmingly.
Trains are difficult to catch when they are already running: it happened to Philips when it tried to compete with Intel and it happened to Intel when it tried to get involved in the design and manufacture of mobile chips.
The rise of artificial intelligence and the interest of technology to devise new interfaces beyond the screens, such as the voice, opens the possibility of Samsung being put in charge of this new train that begins to leave, and in which there will be winners and losers.
Bixby
, the virtual assistant who premiered Samsung with the sale of Galaxy S8, his
smartphone
star is the operating system the company needs to connect all of its products and potentially convert them into one of the world's largest ecosystem for applications and services.
Attendees like Alexa or Siri continue to grow in aptitude, and will soon become operating systems - programs that allow access to other programs.
It is still unclear which approach is right or who is leading the way.
That's why it's so important for technology to go in now, and get it right.
Maybe, in a few years is too late and the same thing happened with Android: if you do not bring something different and unique, you assume the risk of another manufacturer to offer very similar products at a lower price.
This is what happened to Samsung in China before Xiaomi and the rest of Chinese manufacturers.
Bixby is now available in more than 200 countries and has 10 million active users, the company said without specifying what an active user is.
The second version, Bixby 2.0, which was unveiled this week at Samsung's annual developer conference, includes the technology and capabilities of Viv, the company that created Siri and now works with the South Korean manufacturer's assistant, a better natural language recognition and open development tools so that applications can perform complex tasks through simple commands.
In addition, Samsung smart TVs will arrive in 2018. Also to the fridges and any device connected in the future, including cars.
"It may be enough for Samsung to integrate Bixby in its applications to be in a relevant position in the next great career of information and artificial intelligence due to the immense number of devices they sell," says Neil Shah, research director at Counterpoint Research.
The wizard transforms into a platform, an operating system where all the functions of the telephone, household appliance or services in the cloud can be accessed through voice commands.
This second iteration, just six months after the first launch, is open to all companies and developers that may include access to their services and applications from any Samsung device.
"Over time, we will launch several business models to increase the revenue of our partners."
Bixby is the bond of connection and reference in the ecosystem that Samsung wants to create.
That's why he plays a prominent role at home in the San Francisco manufacturer's presentations: security check, recipe reading in the fridges or washing machines that warn that the laundry is already clean.
The company wants to transform that leadership in consumer electronics into a great business opportunity in cloud services.
For Apple,
the services are already one of its main businesses, and its revenues are already higher than those generated by the sale of Mac computers and iPad tablets
.
But Amazon is already in the houses, and Siri and Assistant in
smartphones
.
Will the consumer choose his television or refrigerator by the assistant he or she will ignore or use to use a smart speaker?
It's hard to guess.
Euntaek Lim, a Samsung engineer with Bixby, believes that it is not necessary to compete with Assistant, but to offer clear uses to the consumer where it is more convenient to use Bixby, as the control in the control of the functions of each device and its possibilities in harmony with others instead of web searches, where Google will always have the lead.
Bixby 2.0 will arrive in the third or fourth quarter of 2018, and it is very likely, according to different company executives, that I arrived speaking Spanish and Chinese.
Spanish is a priority language within the company's plans because of its importance in the US and European markets, but it is also working in other European languages.